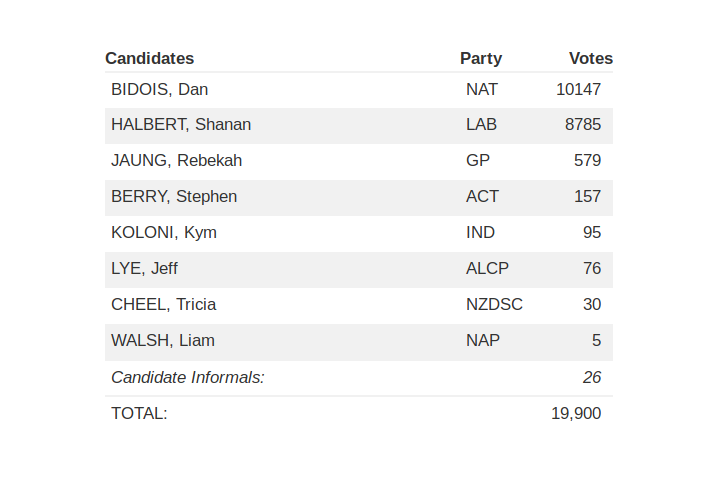 The reason why our ruling class have the right to rule, so they claim, is because they have the consent of the masses. But the winner of yesterday's Northcote by-election and newly crowned Member of Parliament, Dan Bidois, did not have the consent of the masses. Therefore, the Northcote by-election result is fraudulent and illegitimate.
19,900 people cast a vote in the Northcote by-election. According to the Northcote Electoral Profile on the Parliamentary Profiles page, there are 49,569 eligible voters in that electorate. This tells us that barely more than 40% of eligible voters chose to participate in the democratic process – something like 30,000 people abstained.
The question then has to be asked: how is the election of Bidois to the House of Representatives legitimate, when fewer than half of eligible voters took part in the election process? If so few people believed that the democratic process was worth participating in, isn't that sufficient evidence that it has failed, that its claims of legitimacy are fraudulent?
Bidois himself won 10,147 votes in the by-election, which amounts to almost 21% of the eligible voters in Northcote. If no-one cares about the election, how can the winner of it legitimately claim to have any power to rule anyone? Any reasonable person can see that this is absurd. We can't possibly know what the electorate wants unless we canvas the non-voters.
One candidate, Liam Walsh of Not A Party, ran specifically on the non-vote. His platform was that democracy has failed and is inherently corrupt (hard to deny) and that it would be better for us to scrap it entirely and work together instead of using the democratic system to try and fuck each other over.
After all, as a National MP, Dan Bidois will immediately work towards the further enslavement of the young, the Maori and the working class. Walsh notes that Bidois came second to an empty seat.
One wonders what would happen if those 60% of adults in Northcote who do not feel represented by New Zealand's peculiar imitation of democracy gave their allegiance to Walsh instead of to the central government.
What if, instead of paying taxes to the IRD to piss up the wall on flag referendums, yacht races, imprisoning medicinal cannabis growers and importing Somali rapists, people paid no taxes, and we had neither flag referendums nor a justice system putting people in cages for growing medicinal plants?
Some might respond that having no democratic government will leave the community unable to solve problems that require collective solutions, but Dan Bidois, with his 21% support, sure as fuck isn't going to be solving them either. He, like the majority of backbenchers, will stick his nose straight up the arsehole of his party's leader, in this case Simon Bridges, and he will keep it wedged there as long as the National Party hierarchy is responsible for his meal ticket. As a consequence he will vote to enforce National Party policy and dogma – not the will of the Northcote electorate.
A democratic election that gets 40% turnout cannot claim to return a legitimate ruler. The vast majority of the Northcote electorate did not consent to being represented by Bidois; therefore, his being in the House of Representatives is no more legitimate than it would have been if the CIA had helped him raise an army that seized power through force.
After all, a foreign-backed dictatorship might even gain the consent of more than 21% of the population – assuming it put a sufficiently enlightened person on the throne – which would make it no less legitimate than yesterday's by-election.
If the democratic process is rejected by a majority of the people, then it's time to get together and to think up a new political philosophy that adequately represents them. It's apparent from the fact that New Zealand clings to cannabis prohibition, a policy supported by almost no-one, that the will of the people is not represented by the law enacted by their rulers. This failure to represent the people's will is evidence that democracy has failed and needs to be superceded.
The Northcote By-Election Result is Fraudulent and Illegitimate