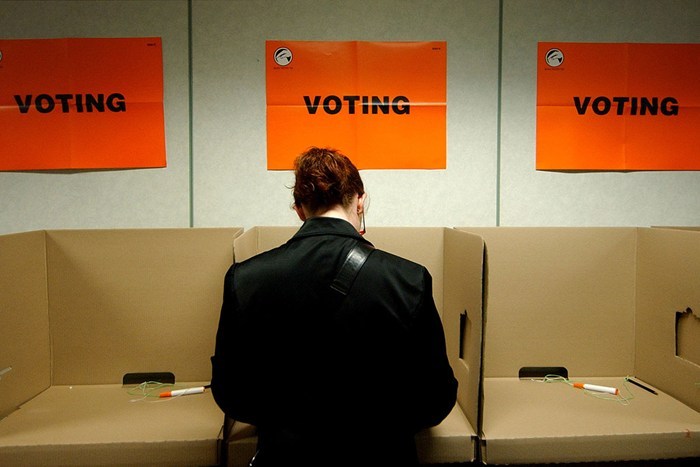 Several opinion pieces have appeared in the mainstream media in recent days exhorting Kiwis to vote in next month's election. With choice phrases like "not voting won't solve anything", "the 2014 result was determined by the people who turned up" and "Voting builds our political power", all mainstream propaganda organs are doing their best to get you to consent to the status quo.
Because that is all that voting is – you giving your consent for things to carry on pretty much exactly as they already are. The political class will interpret the fact that you voted as a sign that you are content with the overall system – and therefore as a sign that nothing need be changed.
And so, your vote has a zero percent chance of changing anything. You might as well dance naked in a thunderstorm praying for the lightning gods to strike down the enemies of the nation.
How the country will be run for the next three years has already been decided by the mutual agreement of the sort of person who politicians really do listen to – rich old people, who have got together long ago with those politicians and hashed out the precise details of how things are going to be, whether the masses like it or not.
If you're not a wealthy Baby Boomer, the politicians couldn't give a fuck what you think. But they do want your consent for what they're going to do to you.
If they don't have that then they run the risk of provoking the rise of some kind of revolutionary movement that might actually make a difference to how society is run. Such as: a movement that campaigned on an expensive universal basic income, or on an equally expensive capital gains tax, or on an immigration policy that reflected the will of all Kiwis instead of just multiple property owners and those looking for cheap labour.
And this is the reason why there is all the propaganda right now to get people to vote. Voting in a democratic system is the same as you giving your consent to how the country is governed – and to the people who own both sides of the political system, the consent of the population they're exploiting is the only thing left that they don't already have.
If you do vote, then politicians of both the left and right wings of the ruling party tend to naturally assume that you're more or less happy with the direction of things.
Knowing in advance that the winner of the election is going to ignore your will in favour of those who have money, your only means of protest is to not vote at all. Past a certain level of disenfranchisement, the only action one can take to affect the system is to not vote. A refusal to vote is the only way your voice can really be heard.
If the turnout rate in next month's General Election was less than 50%, the measured degree of public discontent would be too great to just shrug off, it would then become possible for some hard questions to be asked about the direction the country was going. The mainstream media would be forced to ask whether or not the political system was really a democracy or just an oligarchy masquerading as one.
The higher it is, the more likely it becomes that political discourse is replaced with photos of spaghetti on pizzas, videos of dropping in to London for a sister's wedding, and witch-hunts against outsider candidates.
You can help force New Zealand politicians to take the will of New Zealanders seriously by withholding your vote this September 23rd.
For Those Ignored By The Political Class, The Only Real Protest Is Not Voting